Several new files discovered by dataminers suggest that something is exciting coming up this Halloween for Red Dead Online.
A few days ago, a video was uploaded on the Red Dead Guides YouTube Channels shows several zombie-looking character models for Red Dead Online – almost 50 of them, in fact. The character models were dug up in secret game files and as of the moment, aren't implemented in the game yet.
There are exactly 29 male models and at least 19 female models which all have grey skins and are certainly undead, a few of them wearing numerous new items too.
It is still unclear what all of these could mean for the game itself, but it might be a new game mode intended for Rockstar's western open-world multiplayer. Red Dead Guides revealed that these new characters will be featured in some kind of Infection game mode which would certainly explain why there are numerous undead characters in the game files.
This new content could be related to another leak that was revealed last July where dataminers again discovered various new characters and horse cosmetics that are certainly Halloween-inspired. Along with these photos, several hidden audio files were also discovered by Twitter user MuzTuber which was called "Fear of Us." Fans regarded that these leaks could be some type of time-limited game mode for Red Dead Online, particularly for Halloween.
This would make things clear, considering that the game received a Fear of the Dead mode last year to celebrate the Halloween season. The mode was integrated within the game and was available through October 29 until November 1, so perhaps fans can expect a similar addition this year.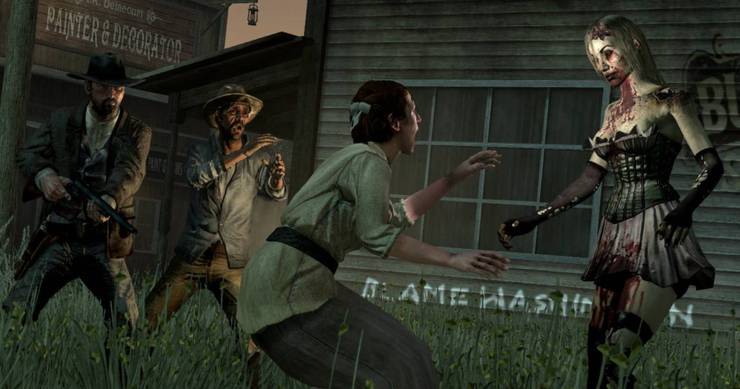 Players always somehow find these secrets like the previously revealed Red Dead Redemption 2 hidden alternate cutscene which plays when particular conditions are met upon playing Chapter 3's "Magician for Sport" mission. Red Dead has had the reputation for being a game that's teeming with secrets fans are still discovering up to this day which is exhilarating especially now that the game has reached its second anniversary since it was launched.
The hidden alternate cutscene was originally discovered by YouTuber cad5150 and was shared through the game's subreddit. The hidden cutscene can be triggered in Chapter 3 after Arthur and Charles are finding Trelawny. Normally, the mission lets Arthur fight against two bounty hunters who know the location of Trelawny. However, if Arthur shoots one of the bounty hunters before fighting them insider their camp, it triggers a new cutscene where he interrogates the other in a sinister way.
Red Dead's developer, Rockstar Games, made news prior to the launch date of RDR2 for how hard the company worked in implementing various mysteries which resulted in the game's critically acclaimed status.
The game's fanbase usually discovers big secrets by accident and if all of the game's secrets are finally discovered, players will consistently grow interest in RDR2 through engaging in its photo mode to the fullest.