Mr. Pushkin Agha, CEO of Vertex Event, who has been the driving force behind several successful events in Dubai for many years, has revealed the exact dates and site of the 4th Blockchain Dubai Summit.
This three-day Blockchain Summit & NOORNFT & ART SHOW will be hosted at the Grand Hyatt Dubai on February 15th, 16th, and 17th, 2022.
This event brings together senior executives to examine the influence of blockchain and related technologies on financial services. The Blockchain Summit 2022 brings together a carefully curated agenda of industry leaders to discuss and accelerate the development of Blockchain Technologies, DeFi, NTF, GameFi, and Metaverse.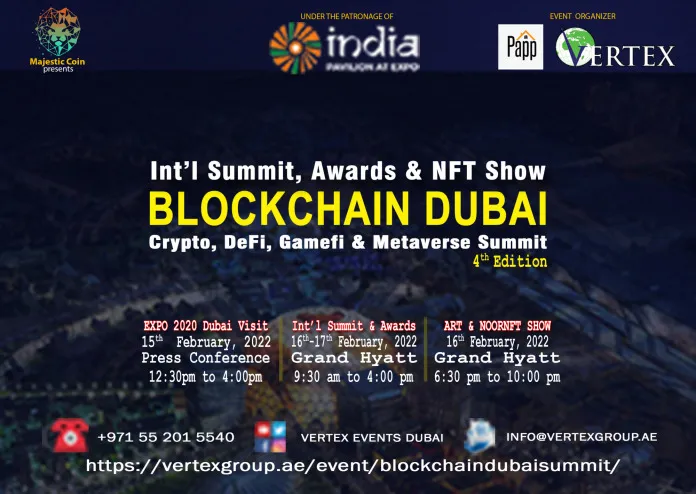 "We are expecting projects, speakers, notable guests, sponsors, and tourists from Europe, Asia, the Middle East, Africa, Russia, China, and the United States," he told the reporters. This is owing to the prominence of Dubai in the Crypto Industry and the reputation that Blockchain Dubai has gained over the years. We just conducted the India-UAE Partnership Summit & Business Leadership Awards on November 15th, 2021, under the kind patronage of Sheikh Nahayan Mabarak Al Nahayan, with the endorsement and support of Cashaa.
Vertex Events held three Blockchain events in 2020, with prominent International Blockchain experts and projects/sponsors such as TDeFi, Lukka, Lbank, and Cashaa, among others, and built a unique network and global notoriety in the crypto sector.
Pushkin Agha's enthusiasm for bringing people together and developing communities drove him to get into events and establish Vertex Events in Dubai. Over the course of his 20-year career in the Middle East, he has arranged hundreds of events.
He went on to say of the current series of Blockchain Events, "It's the need of the hour, and Dubai is a natural choice for many blockchain whales and projects." With no income or corporate tax, cutting-edge infrastructure, and crypto-friendly legislation, Dubai will undoubtedly emerge as the world's crypto capital. Vertex wishes to contribute to the realization of that vision."
Majestic Coin, a leading platform developed by Solomon Mwamba in the United States, is the event's primary sponsor.
The event's highlight is the NoorNFT and Art Show, a collaboration between HiiZone FZ LLC UAE and Arthur J Goldman UK. It is being developed as an Augmented Marketplace for NFT minting, selling, and resale high-value art investments on the powerful Cardano Blockchain. It will initially feature ArtNoor's NFTs and Physical Assets. Following the selection, minting, and curation processes, more NFTs of many other notable artists will be added in the following months.
Mr. Pushkin Agha hinted at more events in the Middle East in 2022, saying, "We have aspirations and large plans but like to take one event at a time." This gives us the motivation to make the current one a huge success. InshAllah, we'll reveal the next one soon after this one."
Dubai Blockchain Agenda
Press Conference at EXPO 2020 Dubai on February 15th –
Summit will be held on February 16th and 17th at the Grand Hyatt Dubai in the United Arab Emirates.
NOORNFT + ART SHOW & GALA DINNER @ Grand Hyatt on February 16th