Deck boxes are the best method to safeguard your MTG card collection if you're serious about it. These boxes are more play-friendly than trading card binders that operate with any regular TCG, making them a far better alternative for players.
In other words, they safeguard the decks you use on a regular basis. Simply sleeve your MTG cards and store them in one of those deck boxes, and they will survive as long as you want them to.
Since some of the Magic: The gathering rare cards are valuable, it's a no-brainer to keep them safe. That's why we've put up this guide to assist you in selecting the ideal deck boxes for your MTG decks.
Ultimate Guard Flip'n'Tray 100+ Xenoskin
Are you looking for the ideal Commander deck box? This is the correct one.
Ultimate Guard produces some of the greatest deck boxes on the market. Period. This Flip'n'Tray is no exception. It's robust and well-made, so it'll last you for many years.
It has a magnetic closure method and a separate container for dice and counters. The box is large enough to store 100+ double-sleeved cards. There's ample area for tokens as well. Because of the XenoSkin design, the box's surface is quite pleasant to touch.
Look no further if you're looking for a deck box that will last a long time. This one will not leave you dissatisfied. Furthermore, you have the option of selecting a hue that best suits your commander.
Vault X Premium eXo-Tec Deck Box
DESPITE NOT BEING THE OLDEST IN THE TCG ACCESSORIES MARKET, Vault X is one of our all-time favorite companies. Every single one of their items that we've tried has exceeded our expectations in terms of quality and Vault X looks.
The outside of this deck box is built of eXo-Tec, as is the case with most Vault X products. This material is not only water-resistant and provides optimum protection for your cards, but it is also slip-resistant, feels great in hand, and is durable.
The interior is coated with microfiber to protect your card from scratches, as you'd expect from such a high-end product. There's no way this deck box could open by mistake because it's closed with four strong magnets. The box will stay firmly shut even if you turn it upside down or dump it in the bottom of your luggage.
Like other Vault X products, this deck box is constructed of PVC-free material, so it won't harm your treasured cards no matter how long you keep them in there.
Ultra Pro Satin Tower
The Ultra Pro Satin Tower is less expensive than the XenoSkin deck boxes previously discussed. It is less attractive and has a less velvety coating.
However, it is both hefty and compact. If appearances aren't important to you, you can save money on this one. It will still adequately preserve your deck, plus it also has a section for dice and counters, which is always useful.
Overall, it's a wonderful product for the price since it flawlessly fulfills its primary function of card protection. That's why you'll find it on a lot of Commander gamers' tables.
Ultimate Guard 200 Card Twin Flip Deck Case
This is without a doubt the finest MTG deck box available right now. The firm XenoSkin material on the outside of the Ultimate Guard deck box protects the cards from accidental harm while also creating a great-looking exterior. It's also scratch-resistant, so you won't have to worry about scratches ruining this box.
This deck box has a microfiber lining on the inside. In addition to providing the box a luxurious appearance, the material is quite soft on the cards. This MTG deck box can hold up to 200 double-sleeved cards or 240+ single-sleeved cards in terms of capacity.
Aside from the excellent materials and large storage, the interior division of this deck box is unique. There's a separate compartment for dice and counters, as well as two separate slots for two double-sleeved commander decks (one in each).
This deck's outside cover latches shut with a magnet, and each part may be opened independently. In addition, each area includes a tray (made of XenoSkin and microfiber) that allows you to remove the cards/dice without risking them falling out, which is rather clever.
Ultra Pro Alcove: Guilds of Ravnica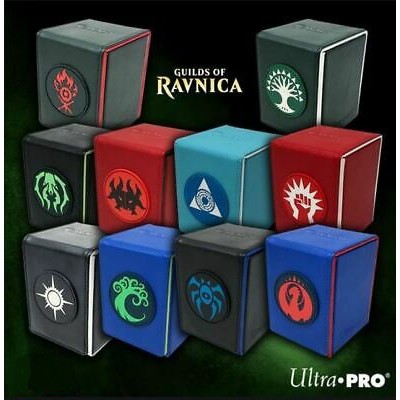 Deck boxes with images on them are almost always a disaster. Colors fade rapidly, leaving you with an unattractive box. That is why finding a flavorful deck box for your commander is difficult. Ultra Pro offers a solution for you if you have a two-color commander.
They created very high-quality deck boxes with the guilds of Ravnica in mind. Each box has a guild emblem on the outside and a symbol pattern on the inside. The hues are bright and inviting. The magnets keep it closed tightly enough that it won't open by mistake in your backpack.
100 double-sleeved cards, as well as certain tokens, can be stored in the deck box. This is ideal for you if you want to show your support for your favorite Magic the Gathering guild.
LX Deck Case
The LX Deck Case is a good pick that delivers great value for money, despite not being as beautiful as some other models on our list. It has a magnetic closing system and is constructed of non-PVC material. However, in order to maintain the deck at such a low price, the manufacturers had to make certain compromises.
First and foremost, this case's interior is not lined with microfiber. While this isn't a major deal given the case's material is PVC-free, the microfiber does offer a layer of protection. If you have a valuable deck, you should never miss this step.
Another factor to consider before buying this deck box is its capacity. This deck case is not suitable with commander decks since it only accommodates 80 card sleeves. So, if you need a deck box to transport your commander deck about, this model isn't for you. Apart from that, it's a good choice for holding some of your sleeved MTG cards.
Ultra Pro 2 Piece Box
At the very least, the Ultra Pro 2 Piece Box has one advantage: the lowest price available. This is one of the most affordable Commander deck boxes available. You can find out how much it costs on Amazon.
What's the catch, exactly? It isn't the most durable option available. You'll want to keep it safe in your bag and not allow it to move around too much. If you have a high-priced deck, you should upgrade your deck box.
This is a good pick if you're one of those players who can't seem to quit constructing commander decks. Multiple 2 Piece Deck Boxes can be used for storing at home. When you're traveling somewhere, purchase a better deck box.
In this manner, instead of buying numerous high-end deck boxes, you may have all of your decks nicely organized and save money. You won't have to worry about the box in your bag opening because you'll be using the better one for travel.
They're also translucent, which is a plus. This allows you to identify which deck is whose quickly.
Make certain you order the correct size. The 150-count one is really perfect for 100 double-sleeved cards and a few tokens, so that's the one to purchase. You can fit 100 cards in the 100-count box if you single-sleeve them or don't sleeve them at all.
Ultimate Guard Sidewinder Deck Box
The Sidewinder deck box is another excellent option in the premium MTG deck box category. This box holds 100 double-sleeved cards and is suitable for commander decks. If your cards are in single sleeves, this box can hold up to 120 of them.
The box's outside is composed of XenoSkin, which provides a superior, non-slippery feel. You won't have to worry about smudges either, thanks to the roughness of the box. It should retain its immaculate appearance for a long period unless it is subjected to really severe usage.
On the inside, you'll find microfiber lining, which will offer your cards an extra layer of protection, as you'd expect from such a high-end product. Because the box's lid can fold all the way down, putting your cards inside or pulling them out should be simple. It features four strong magnets that will keep the lid firmly sealed whenever you close it.