With Jesse McCree's defection to Overwatch, Ashe has become the de facto leader of the Deadlock Gang. Ashe is one of the most enjoyable Damage heroes to play in the new roster. Ashe excels at maintaining the middle ground, holding all tanks and squishies at bay in style.
Best of all, she comes with one of Overwatch's most beloved side characters: Bob! Her available masks, of course, alter both her and Bob's looks. Despite the fact that Ashe has a limited number of skins due to her status as one of the most recently published characters, all of her skins are excellent representations of her.
Socialite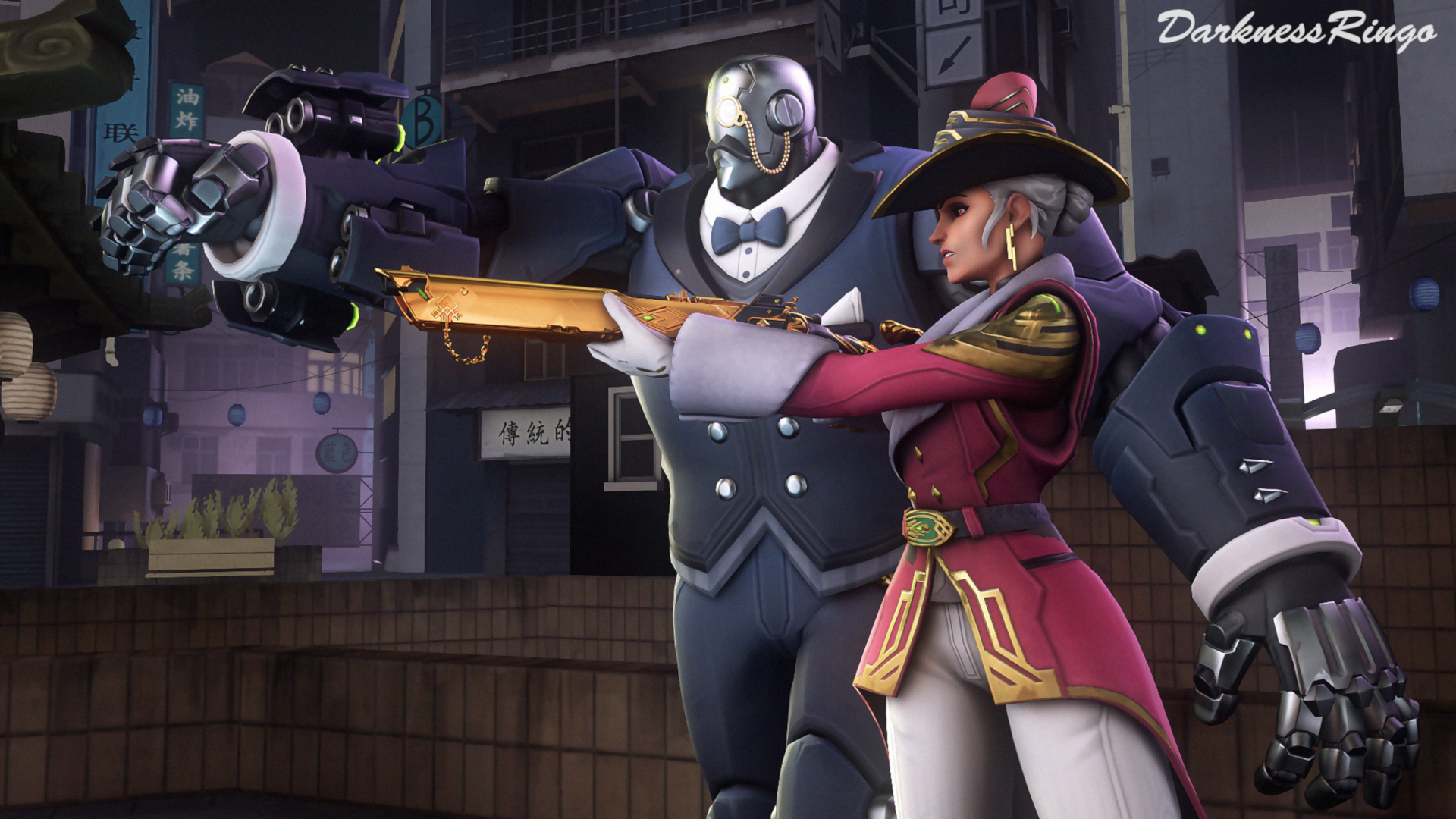 The iconic skin Socialite is ideal for any player who wants to dress like a posh, formal Ashe and make other players look like paupers in contrast. It depicts Ashe in Charity Ball wear befitting one of the rich upper class.
Socialite is ideal for someone who wishes to slaughter the red team mercilessly while looking good doing so. Bob is dressed in a slim-fitting blue suit with a matching monocle and bowtie for good measure.
During the seasonal event of the same name, Socialite is accessible from Archives loot boxes.
Gangster
Gangster is the second iconic skin on the list, and it's a brilliant skin for both Ashe and Bob, portraying them as stereotypical upscale criminals dressed in red and black. The pinstripe trousers look great on all of them, and the suspenders go together with Ashe and Bob's costumes. Both of their caps are indeed great for them!
Gangster is available all year, and it isn't tied to any specific holidays or activities.
Safari
The legendary skin Safari is next on the list. Safari turns Ashe and Bob into big game hunters, ideal for tracking down the red team's foes. Both Bob and Ashe are depicted as explorers of unknown deserts and other adventures in the skin.
Safari, like Gangster, is a legendary skin that can be obtained year-round through loot boxes or credits.
Mobster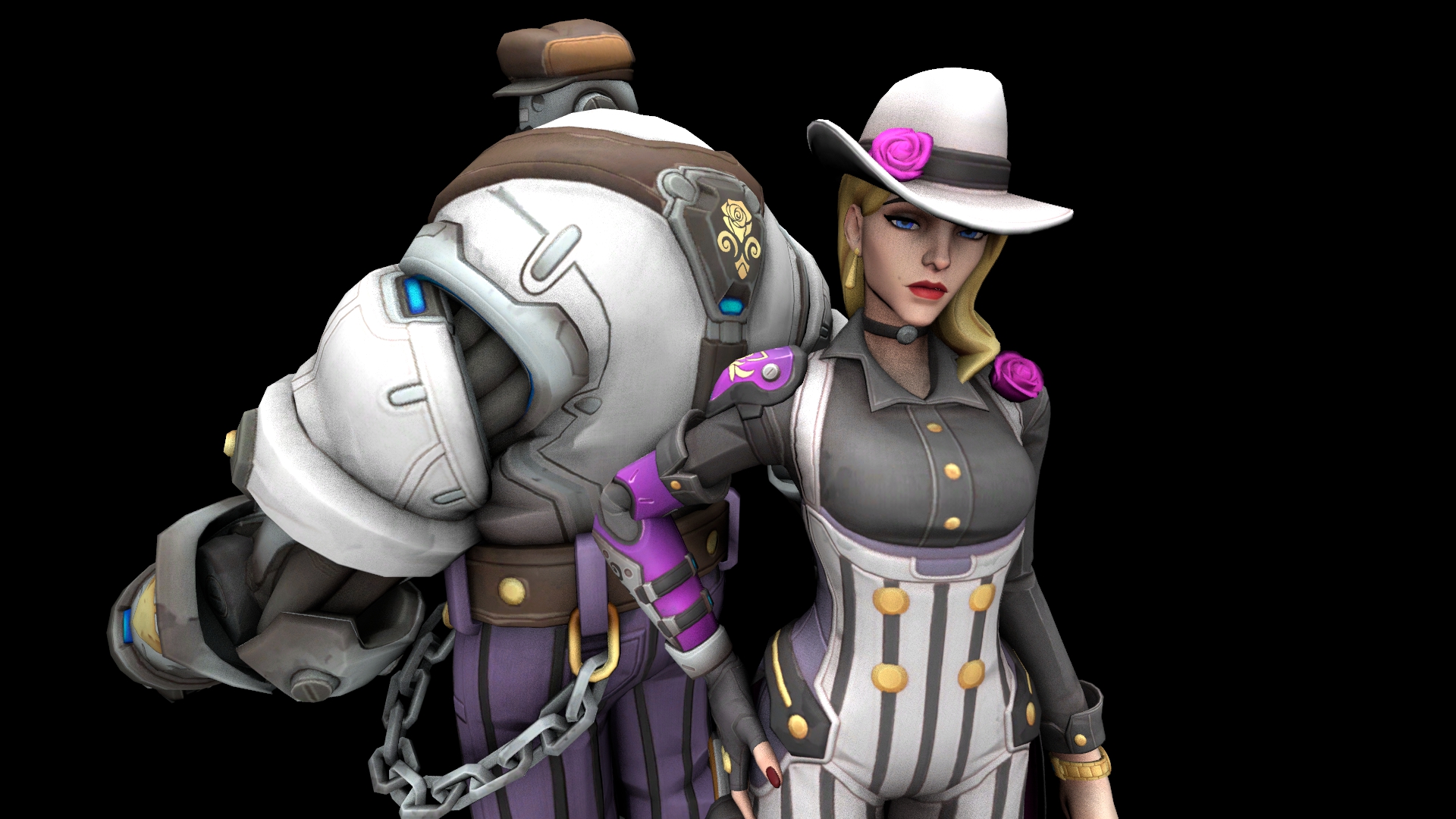 Mobster is another iconic skin for Ashe, and it's a recoloring of the Gangster skin with minor changes. Unlike the Gangster suit, which has Ashe and Bob dressed in mainly red and black, the Mobster skin has them dressed in mostly white and purple.
In the end, we concluded that the red and black looked better on the couple, but Mobster's purple and white with pinstripe trousers and suspenders is still a reasonable option and could be preferable to certain teams.
Mobster is a legendary skin that both credits and loot boxes can obtain at any time during the year.
Jungle
The next skin on the list is Jungle. Ashe and Bob have a mythical skin called Jungle that depicts them as jungle explorers. They both happen to be natural camouflage candidates for trekking across the Amazon rainforest.
The Jungle skin is a recoloring of the Safari skin mentioned above, and it's just lower on the list because we thought the Safari coloring and style suited Ashe's personality better. The jungle is available all year long in all loot boxes only for 1000 credits.
Winter
So far, Winter is the only epic skin on the list. It depicts Ashe and Bob in icy blue hues that would make any player feel at ease in even the coldest of climates. Bob's jacket has a snowflake emblem on the back, and Ashe's hair, with its neon dyed light blue color, looks cold.
With their fur padding, Ashe's boots are also stunning. It's so toasty. Winter is available for 750 credits during the seasonal event or from Winter Wonderland loot boxes.
Thorn
Ashe's epic skin, after all, proves that any rose has its thorns. The next skin on the list is Thorn. Ashe and Bob are shown in varying red and pink hues in this skin. With this flesh, the pair seem to be utterly poisonous in their rose-centered designs. Thorn can be purchased for 250 credits or obtained from any and all loot boxes during the year.
Posh
Posh is the last of the epic skins to make the cut, and it features white and black recolorings of Ashe and Bob's default styles. With her gold trimmings on a plain white robe, Ashe looks ridiculously lavish, and Bob follows suit in his recoloring with this skin.
Even their arms are more opulent in gold, and you don't even have to compete to get the gold pistol for her. Posh can be purchased for 250 credits or obtained from any of the year's loot boxes.
Sunflower
Since Ashe no longer has any epic or legendary skins (aside from Overwatch League skins, which must be purchased separately from the base game), the uncommon skin Sunflower is next on the list. Sunflower is a special skin that recolors Ashe's regular skin in all the right places with yellow and deeper black accent lines.
Sunflower is a really inexpensive alternative to having regular skin if you find it lacks a little something and you don't have any of her other skins. Sunflower is a cheap 50-credit item that can be purchased or obtained from loot boxes all year.
Classic
Don't worry if you don't have any other Ashe skins and don't want to waste credits on anything. Regardless, Ashe's default skin is a fantastic one for her. Her default style depicts the protagonist in all of the new Deadlock Gang's glory.
Both Bob and her have striking features that make them two of the best default hero designs in the game right now. This is the one you start with, and it doesn't need any additional purchases or loot boxes, which is fantastic!