After a long and frustrating silence, Infinity Ward has finally made a statement on several game-breaking Call of Duty Warzone bugs and glitches that have been tormenting players since Season 5. To be specific, the Armor Satchel and Heartbeat Sensor glitches were called out by the gaming community and now, it seems Infinity Ward is getting it fixed as soon as possible.
The Call of Duty developer has gotten itself in a bit of a bad reputation in the previous weeks because of the studio's lack of urgency in addressing known bugs and glitches inside Warzone. Although their latest statement doesn't say that the problems were fixed, it is good to see that they are opening a line of communication between them and the fans.
The statement from Infinity Ward doesn't guarantee that the problems will be fixed soon but it gives fans something to hope for. The Heartbeat Sensor bug was confirmed officially by Infinity Ward's Co-Design Director of Multiplayer Joe Cecot while the Armor Satchel glitch was addressed via a Trello Card.
Below is a tweet regarding the Heartbeat Sensor glitch. The problem was reported by players who have encountered glitches upon opening the Heartbeat Sensor for the first time. Upon accessing the equipment, players lag and freeze for a significant period of time which usually leads to the player's demise.
Hi Joe there is a bug when opening the heartbeat sensor for first time it lags and freeze for 5 second!

— Firas_crizby (@FCrizby) September 16, 2020
This definitely makes the item useless and risky to use but players are still hoping that the problem gets fixed soon because the Heartbeat Sensor, when not plagued by a bug, is a piece of really helpful equipment. The Infinity Ward head's reply is short and sweet, simply letting players know that they are really working on a fix. The reply didn't give any clue of how soon they can fix it, so players may want to stop using the Heartbeat Sensor for now.
Meanwhile, more details are now known about the Armor Satchel bug's status. Presently, anytime a player picks up the item, it always has eight plates even if the previous player already used some of its charges.
The card below was found on Trello which tells us that Infinity Ward is well aware of the problem and could even already found a fix for it. The "fixed in a future update" label makes it clear that the bug is already fixed and that the developers are going to roll it in the next Warzone update.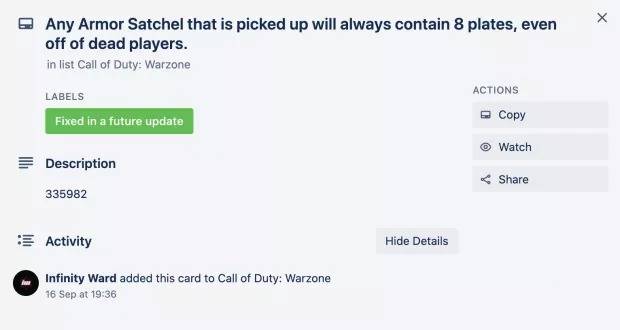 However, there is still no official announcement of a fix so fans shouldn't expect much in the upcoming Call of Duty Warzone update, but it does seem probable. Call of Duty Warzone enthusiasts should keep an eye on updates since Cecot and Trello are good places of credible information before new updates are officially revealed by Infinity Ward and Activision.
It is also good to know that the developers are still working hard on Warzone even if the new game, Call of Duty Black Ops Cold War, and its multiplayer mode is hitting the shelves in just a few more weeks.