For the past few days, it has been evident just how hard the Super Smash Bros. Ultimate developers have been working to bring the Minecraft DLC to the fans. With that in mind, Nintendo has officially revealed possibly the cutest feature you'll be seeing this October 14 once the DLC goes live: Kirby's Minecraft form.
If you're familiar with Kirby, you know that he has the power to suck in objects and enemies and then absorb their characteristics or powers. Steve from Minecraft won't be an exception from this it seems, as we now have our first look at what Kirby would look like if he absorbed Steve and all his blocky goodness.
Based on the screenshots that Nintendo of Europe posted on Twitter, we can see that Kirby will still keep his pink aesthetic, only this time he will be square in shape. Not only that, but his shoes and what appears to be his hands become similarly blocky in shape.
The developers were really thorough with this design, as Kirby's eyes and blushing cheeks also adopt a similar square shape to fit the Minecraft design.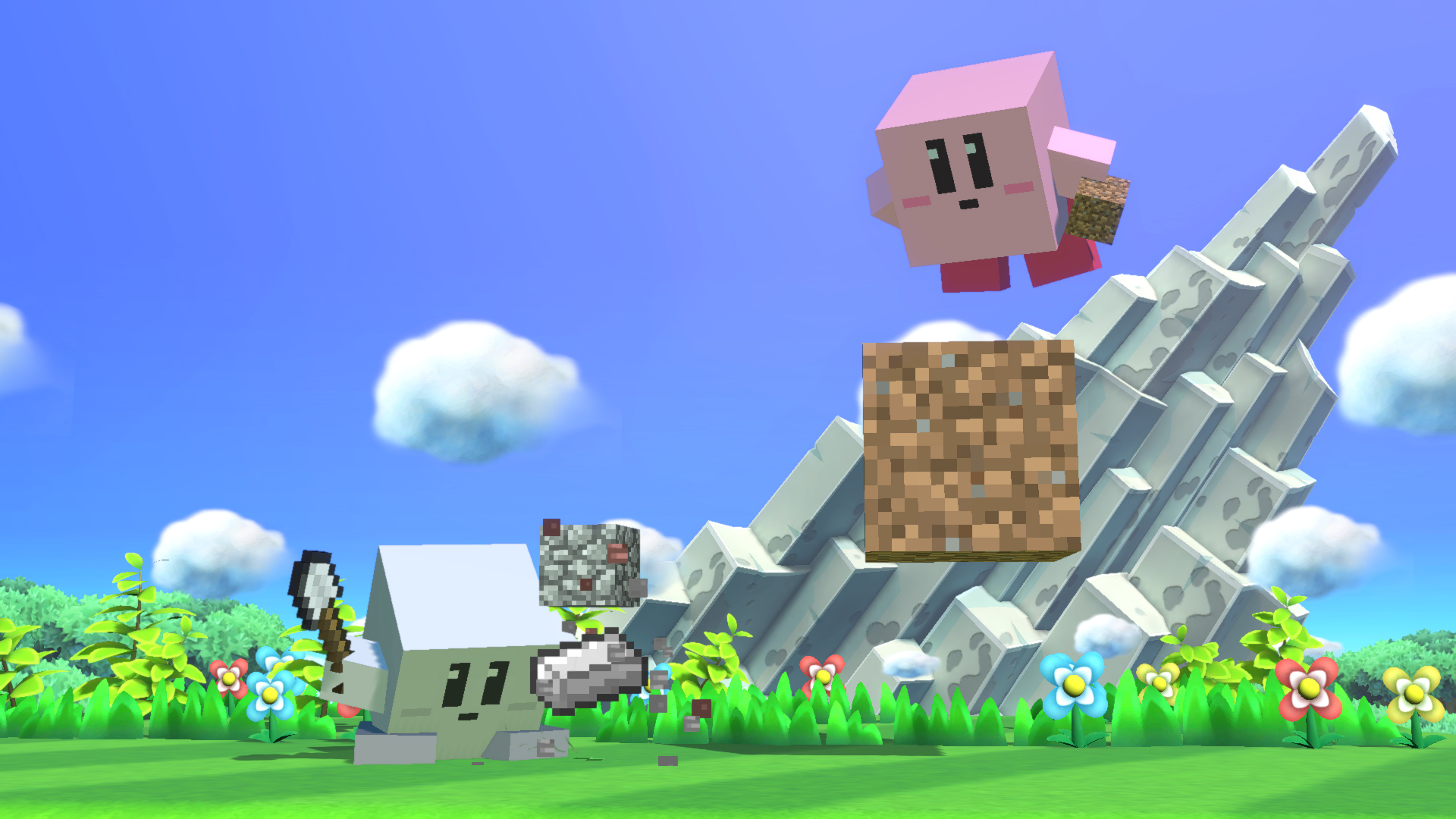 What makes Minecraft Kirby so great, however, is the fact that he's functional as well as adorable. From what we can see in the uploaded screenshots, the ability that Kirby will be able to absorb from Steve is one of his most interesting skills, and that is building.
In one of the images, you'll see Kirby building blocks, while in other pictures, he's holding Minecraft's iconic shovel. Now, here's the deal with the shovel: it allows Kirby to dig up some parts of a stage so that he can make use of certain moves.
It's also safe to assume that despite being a block of cuteness, you can still make use of Kirby's alternative skins since one screenshot features a white Kirby.
One other interesting thing of note is the fact that one of the screenshots showcase an iron ingot. The use of iron in Minecraft will basically be the same in Super Smash Bros. Ultimate. This crafting resource, when acquired, can be used by Steve (and perhaps Kirby, too) to craft items such as swords.
Super Smash Bros. Ultimate has a really detailed crafting system that is quite impressive, honestly. We can really see just how much thought and effort they've put into this DLC and it's not just about adding Steve for the hell of it. For one thing, if you do craft a sword, it will have weapon durability as well just like in Minecraft.
— Nintendo of Europe (@NintendoEurope) October 3, 2020
That being said, the screenshots don't showcase Minecraft's Mii costumes or even the different biomes you'll find in the world of Minecraft, however, rest assured that the DLC will include those and more.
The Minecraft stage itself will be full of excitement, as it will feature six different weather types from Minecraft. On the other hand, the Mii costumes will have different alternatives for both the Brawler and Swordfighter forms.
The Minecraft DLC will be released within a few weeks, so we don't have to wait too long to see the Minecraft version of Kirby in action.